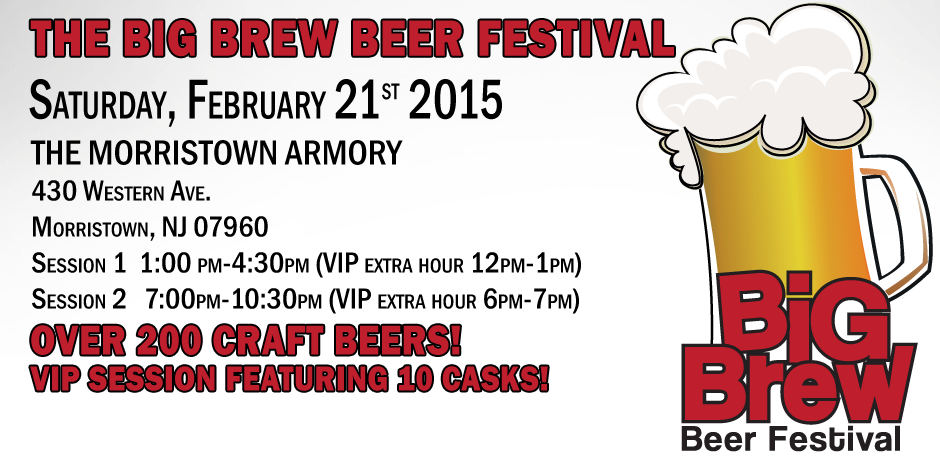 The Big Brew Beer Festival is BACK in Morristown, NJ on Saturday, February 21st, 2015. The BBBF will feature 200+ Craft Beers, 10 Casks in VIP and great food from 4 area restaurants including Morris Tap & Grill and Nicole's Ten.Full beer list and menu coming soon. UNLIMITED TASTINGS! This is a perfect opportunity for beer aficionados and beer lovers to meet, hang out, discover new beers and speak to brewery representatives. Plus Free Shuttle Service to & from the Festival!
I am running not one, but TWO contests to win tickets to this event. One will be started TODAY. A winner will be chosen on Monday, January 5th at 8pm. I will also be doing a Twitter contest at a later date.
Here's How to Enter the Facebook Contest:
1. You must "like" New Jersey Isn't Boring and The Big Brew Beer Festival on Facebook. I will check!
2. When you see a status promoting the contest on Facebook (including the link to this blog post), you must SHARE the status and LIKE and COMMENT on it as well. If you do not like it, I have no way of tagging you as a winner.
3. A winner will be chosen on Monday, January 5th at 8pm. There will be  a Facebook post declaring the winner at that time.
Not social media savvy? Don't want to test your luck?
Well…I have more good news.
I have an exclusive $10 off promo code for the event which you can redeem on the Big Brew Beer Fest ticket page. The promo code is: NJISNTBORING
Details on the Event:
Date: Saturday, February 21st, 2015;  2 sessions
Address: The Morristown Armory; 430 Western Ave, Morristown, NJ
Cost: GA $60,, VIP $85, $10 DD
* Ticket prices will increase two weeks before the show and again one week before the show. Get them early!
Buy tickets HERE
Like them on Facebook and Follow on Twitter @BigBrewBeerFest
For more beer events check out the NJIB section for Beer Events