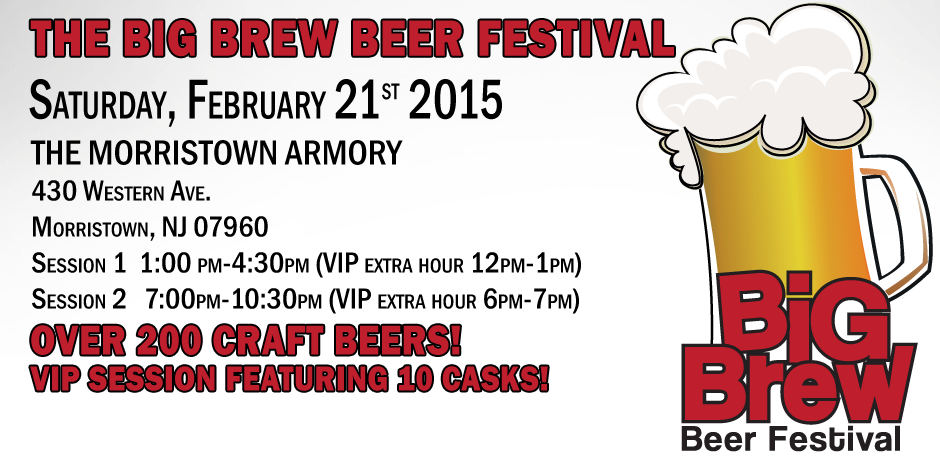 The Big Brew Beer Festival is a perfect opportunity for beer aficionados to meet and hang out. Featuring 200+ Craft Beers, 10 Casks in VIP (Casks are a true rarity at beer fests) and great food from area restaurants including Morris Tap & Grill and Nicole's Ten.
I am giving away another 2 FREE tickets to the event – this time through Twitter!
Here's How to Enter the Twitter Contest:
1. You must "Follow" New Jersey Isn't Boring (@njisntboring) and The Big Brew Beer Festival (@bigbrewbeerfest) on Twitter. I will check!
2. When you see a post promoting the contest on Twitter (including the link to this blog post), you must RT it!
3. A winner will be chosen on Monday, January 26th, 8pm on Twitter. I will post and direct message the winner!
Good luck!
Official Press Release:
The Big Brew Beer Festival is returning to the Morristown Armory in Morristown, New Jersey on Saturday, February 21st, 2015.
Over 200 styles will be available during the General Admission session and there VIP Session will include over 20 rare and special beers featuring 10 Casks (presented by Morris Tap & Grill of Randolph, NJ). Craft Beer lovers will not want to miss this rare opportunity to sample so many beers poured from casks.
Big Brew is also teaming up with My Limo to provide Free Shuttle Service—running every 15 minutes during the event—back and forth between the Morristown courthouse and the Armory. Service is provided courtesy of the Big Brew Beer Fest. Event attendees also have access to discounted sedan rates.
VIP ticket holders Additional Benefits include:
* An extra hour of tasting
* Over 20 Special Brews featuring 10 Casks (VIP Lounge presented by Morris Tap & Grill)
(available to VIPs throughout the entire session)
* Food (served during VIP extra hour) provided by area restaurants including Morris Tap & Grill and Nicole's Ten (both of Randolph, NJ)
SESSION TIMES:
Session 1   1:00 pm-4:30pm (VIP extra hour 12pm-1pm)
Session 2   7:00pm-10:30pm (VIP extra hour 6pm-7pm)
SESSION PRICING: Take Advantage of Early Bird Pricing (prices go up two weeks and one week before Fest): VIP – $85     General Admission – $60     Designated Driver -$10
Tickets are available online at:   http://www.bigbrewnj.com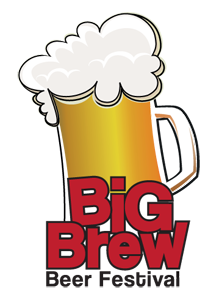 All tickets include unlimited tastings and a souvenir tasting glass. Attendees can also vote on the People's Choice Award for best beer at the festival.
A portion of the proceeds will be donated to Morris Rugby, which raises funds and awareness for youth rugby throughout the region. For more information, please visit www.morrisrugby.org
Music provided by Morris County's own Mr. LoveJoy.
For information, contact Allison Kohler, JMK Events, at 973-927-2794 Jmkevents@aol.com
$10 off with Promo Code: NJISNTBORING