As you may know, or should know, every week I have a new Etsy Store of the Week. This week the store is Chris Ernst Art.
This week, Chris is offering a 25% off discount at his Etsy Store with the Promo Code: NJISNTBORING. This offer is good until September 30th, 2014.
Additionally, Chris is offering a giveaway for 5 of his "Boss" pop art, inspired by Bruce Springsteen.
Rules for the Contest:
1. To enter this contest you must like both New Jersey Isn't Boring and Chris Ernst Art on Facebook
2. You must "Like" and "Share" a status about the contest.
3. The winner will be picking on Monday, Sept 29th at noon on Facebook.
That's it!
Additionally, you can see Chris's art at the following locations:
1. OQ coffee in Highland Park.  It will be on display through the Fall
2. Guild of Creative Arts from September 27th through October 28th
3. The New Jersey Isn't Boring Art Show – Sunday, Oct 19th in Rahway, NJ
Be sure to follow Chris Ernst on Instagram @CErnstArt
Follow his blog on FreshMilc.com
Artistic Vision (via Chris Ernst):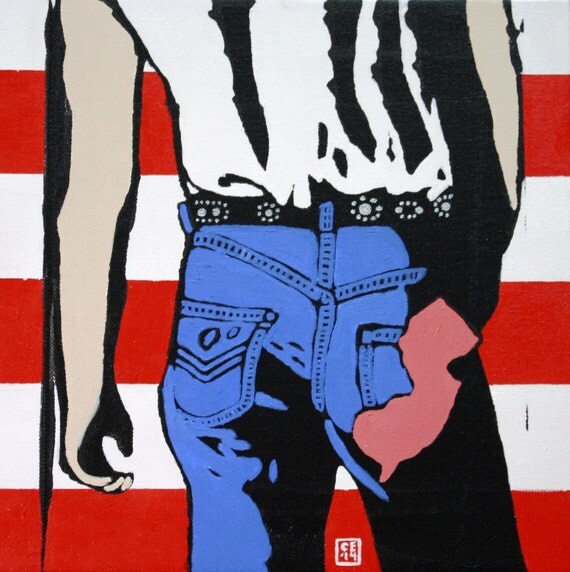 I am intrigued by the deconstruction of pop art through the process of human fabrication. I believe detours along the creative journey often result in new, captivating destinations.
I have a strong linear focus and an emphasis on complementary colors. The mood is both fresh and nostalgic at the same time. I love when a new piece combines inspirations from my childhood with an original perspective.
My work attempts to capture those indelible moments when an image pops into my head and I know I have to bring it to life. I embark on the journey knowing full well the pursuit will inevitably lead me somewhere different altogether. The beauty is in the journey.
My approach as a self-taught, outsider artist is a reflection of my various homes, including Indiana, Virginia and New Jersey.
If my art was a party, musical stars would mingle with icons of the silver screen, cartoon clouds and a very special cow. Pop art would line the walls. I would DJ and freak out each time the crowd roared to an old school jam.