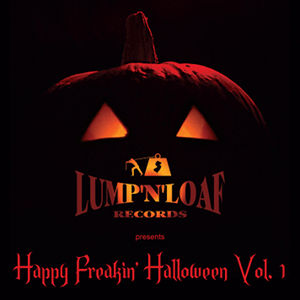 Lump'N'Loaf Records is excited to announce the release of their first ever Halloween compilation, Happy Freakin' Halloween Vol. 1, featuring L'N'L acts as well as friends of the Central New Jersey label.
Following in the footsteps of their popular Happy Freakin' Holidays Christmas compilations, Lump'N'Loaf Records' Happy Freakin' Halloween was the wise choice for a follow-up compilation since L'N'L has always loved celebrating this October holiday.
Halloween Vol. 1 offers an array of Halloween-themed standards and original songs, from A Halo Called Fred's unique approach to H.P. Lovecraft's Elder Gods mythos with their "Cthulhu's Head is a Great Big Squid" to Trio of Madness' exciting re-imagining of the classic 1978 "Halloween" horror movie theme.
As Liz from Trio of Madness explains, "We were very excited to be asked to contribute to the L'N'L Halloween Compilation, and knew right away the the Halloween movie theme song was the perfect choice for Trio. Our version is spooky, yet rockin'…just like us! We hope we would make John Carpenter proud!"
Happy Freakin' Halloween Vol. 1 is streaming and available for FREE download starting on October 1, 2014 at: lumpnloaf.com, facebook.com/lumpnloafrecords and soundcloud.com/lumpnloafrecords
About the Bands
About Lump'N'Loaf Records

Lump 'N' Loaf Records
P.O Box 6201
Hillsborough, N.J 08844
L'N'L was founded in 2000 with one mission in mind – to cast a spotlight on original, cutting-edge music from the highly talented central New Jersey music scene. Several L'N'L bands on the Halloween Vol. 1 compilation have new releases planned for 2015 including A Halo Called Fred, Trio of Madness, Young Jerks and Zigman Bird.